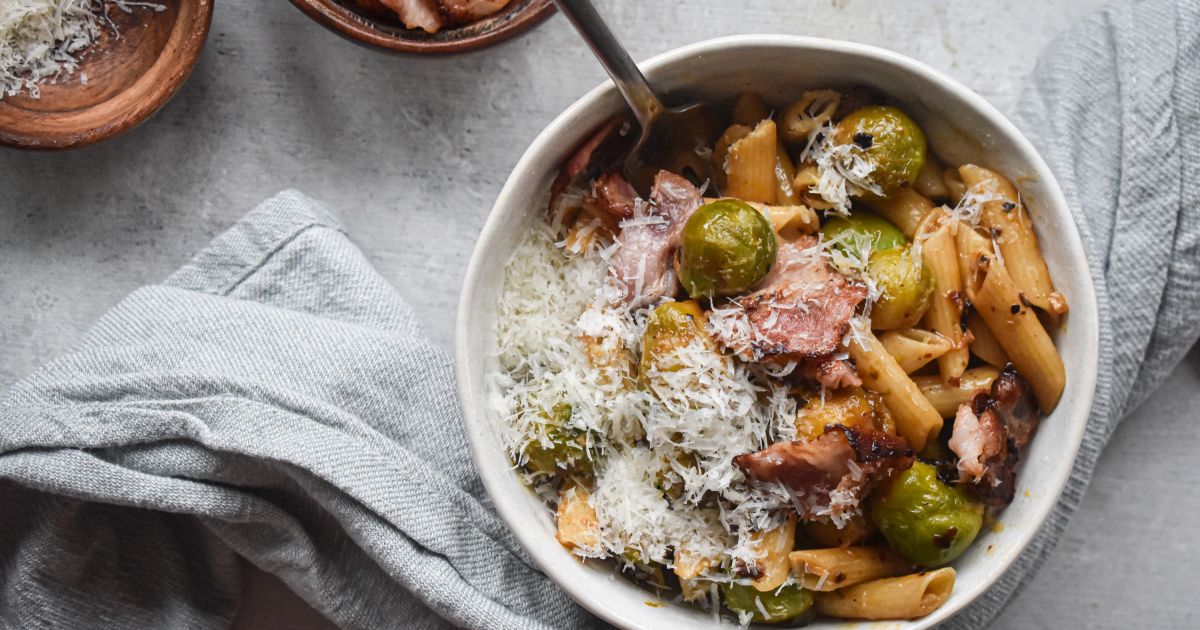 Brussels Sprouts Pasta with crispy bacon and Parmesan cheese tossed in a lemon garlic sauce is an easy 20 minute dinner that couldn't be more delicious. Jump to Recipe keyboard_arrow_down
395 CALORIES 50g CARBS 14g FAT 14g PROTEIN
9 Green
9 Blue
9 Purple
MyWW® SmartPoints™ New!
Brussels Sprouts and Bacon Pasta with fresh lemon juice and Parmesan cheese is one of those perfect quick and easy dinners that comes together in less than 20 minutes but makes you feel like a restaurant chef. If you are a Brussels sprouts lover, this dish is a must make. 
Two of my favorite ingredients, bacon and Brussels sprouts, all wrapped up in one hearty pasta dish – yum! I originally saw this recipe in the New York Times and couldn't wait to try it. It seemed like the perfect comforting dish to start the week and give us something to look forward to after a long Monday.
To lighten things up, I decided to use less pasta as the original recipe used a pretty large serving. Another trick to keeping pasta dishes light is to use lots of veggies, that way no one misses the extra pasta.  I also swapped in some center cut bacon instead of pancetta and made sure to drain off most of the fat. Lastly, I  added vegetable broth to create more of a sauce, since I left out some of the butter and oil originally called for in the recipe.
We absolutely loved it and will definitely be adding it to the rotation for dinners. Even my Brussels sprout averse kiddos devoured this dish. 
Recipe Tips and Ideas for Brussels Sprout Pasta
Bacon: There are a few options when it comes to the bacon in this recipe. Center cut bacon is usually the leanest, so opt for that if you can find it. Turkey or chicken bacon also works, but you may need to add a little extra fat to the recipe since it won't release as much when cooking. Pancetta, diced ham, and even salami would also work great in this recipe. If you want to leave out the bacon completely, you'll need some extra olive oil or butter.
Add nuts: Add some crunch to this recipe by sprinkling in some toasted pine nuts, silvered almonds, or walnuts. 
Try another veggie: Brussels sprouts are the perfect vegetable for this recipe in my opinion, but you could experiment with other greens like kale, spinach, asparagus, or cabbage. Cauliflower, broccoli, or butternut squash would also be delicious.
Swap in sausage: If you want to try a different protein, consider swapping in some lean turkey or chicken sausage. Ground options work great since they also add lots of flavor to the sauce, but sliced options work as well.
Add beans: Kick up the protein and fiber by adding in a can of drained and rinsed chickpeas or cannellini beans.
Make it gluten free: Swap in a gluten free pasta of your choice in the recipe, just make sure to follow the cooking directions and only cook until al dente. 
Try different cheese: Consider swapping in some goat cheese, feta cheese, or even shredded mozzarella. If you are trying to avoid dairy, consider sprinkling with nutritional yeast to create some of that same cheesy flavor. 
How to choose Brussels sprouts?
This recipe works best with fresh Brussels sprouts. When choosing them at the market, make sure to look for bright green sprouts without brown or black spots. Usually, I opt for small to medium sprouts, since they require a bit less prep work. Make sure to clean the sprouts and dry them before using, removing any browned or wilted outer leaves. For a quicker option, you can also use a bag of shredded Brussels sprouts to cut out some prep work. 
Can I use frozen Brussels sprouts?
Although I prefer fresh Brussels sprouts when possible, this recipe will also work with frozen. Just be aware that frozen sprouts have a softer texture than fresh and you won't get the same browned and caramelized edges that you would with fresh sprouts. 
How to prep Brussels sprouts?
There are a few different options for how to prep the Brussels sprouts for this dish. One option is to shred them if you prefer a smaller sprout in the dish. If the sprouts are on the smaller ones (like in the photo and video) they can stay whole. For medium sprouts, make sure to cut them in half and larger sprouts can be quartered. If you love those dark, browned edges on Brussels sprouts, I recommend cutting them in half or quarters. 
What's the best pasta to use?
Whenever I am making pasta dishes, I always like to think about what shape pasta would work best. In this case, you want to make sure something can easily get the perfect bite with some pasta, bacon, and Brussels sprouts. For that reason, I like to choose a medium shape pasta like penne, rigatoni, farfalle, or other medium shape pasta. Choosing something with ridges will also help the sauce stick to the pasta. 
More Brussels Sprout Recipes