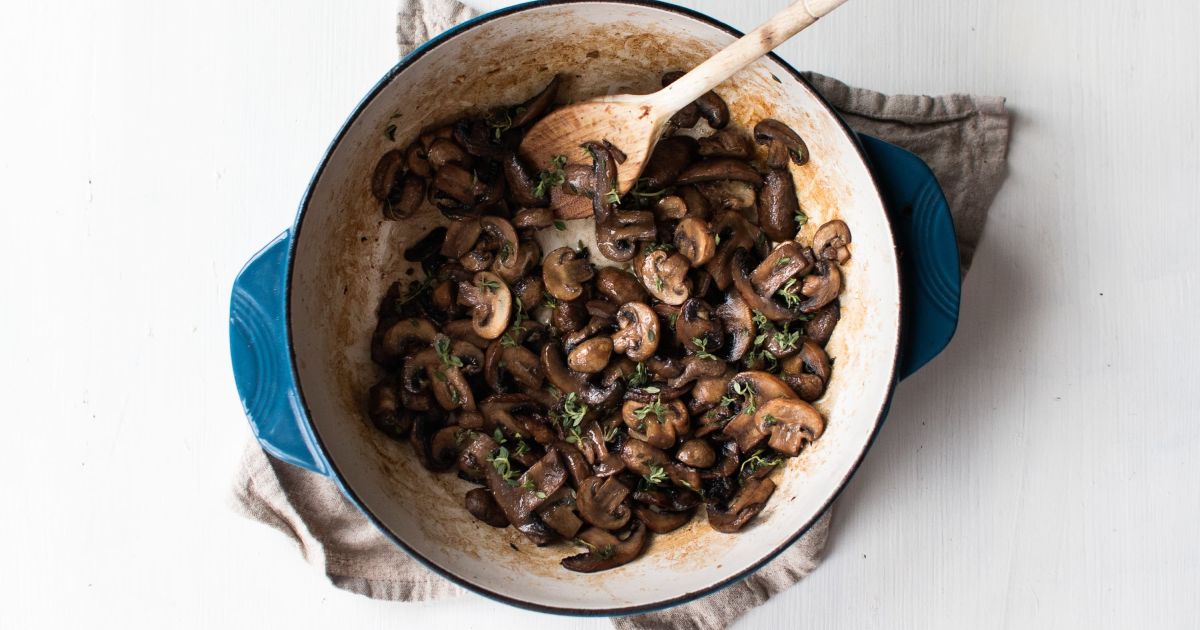 The best Sauteed Mushrooms with fresh garlic, butter, and thyme make a quick and easy side dish that's ready in just 10 minutes. The best way to cook mushrooms at home.
Jump to Recipe keyboard_arrow_down
87 CALORIES

5g CARBS

7g FAT

4g PROTEIN
2 Green
2 Blue
2 Purple
MyWW® SmartPoints™ New!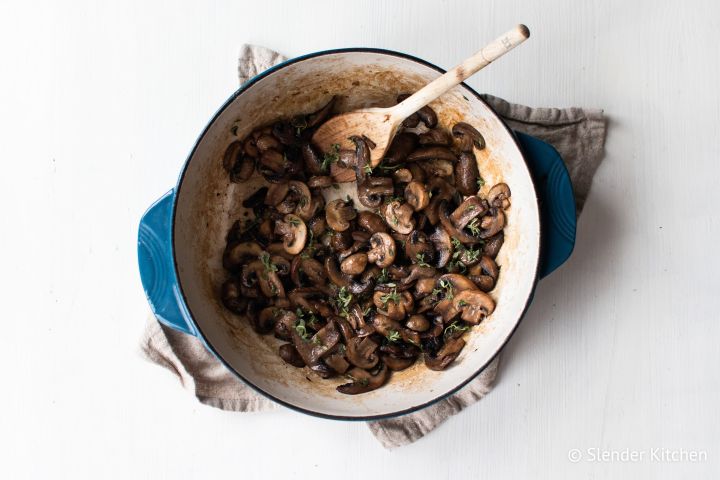 Easy Sautéed Mushrooms with Garlic Butter Recipe
These easy garlic butter sauteed mushrooms are ready in just 10 minutes and seriously couldn't be more delicious. The deep caramelization, rich garlic flavor, and touch of thyme is just magic. They are right up there with these Grilled Mushrooms and Creamy Mushroom Pasta.
Are you team mushroom? Me too! Oh yes, I am the team captain in fact. Self-appointed, maybe. But still, team captain in my mind!
I just love the tastes of all mushrooms, especially when they are grilled or sauteed like these Garlic Butter Mushrooms. Whether you eat them as a side dish or with noodles, rice, or a protein, I think you'll find this is the simplest, tastiest sauteed mushroom recipe you'll ever come across!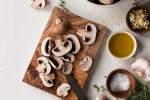 How do you Saute Mushrooms?
Making these mushrooms just couldn't be any easier! All you need is a few pantry staples, as well as a white or brown mushroom variety of your choice. After that, it's as simple as cooking in a skillet for less than 10 minutes, then devouring!
First, heat a skillet over medium-high heat, then add the olive oil and butter to the pan.
When the butter has melted, add the mushrooms and the soy sauce. Stir the mushrooms around to coat in the oil and butter. Let them cook for about 4-5 minutes without stirring so the mushrooms brown and caramelize.
Finally, add the garlic and thyme to the skillet, and give it all a stir. Let it all cook for another 3-4 minutes, stirring as needed, until the mushrooms are tender. Season well with salt and pepper, to taste and eat!
How long should mushrooms be cooked for?
To saute mushrooms, they will need to be cooked for about 7-10 minutes total. Start by getting the pan nice and hot. Then cook them on one side until they start to brown and caramelize. Then give them a stir and let them cook an additional 3-4 minutes. That's it! Mushrooms cook really quickly when they are sauteed. 
Tips for Perfectly Sauteed Mushrooms
Don't stir too often: One of the biggest mistakes people make when making sauteed mushrooms is stirring them too much. Mushrooms need to brown and caramelize, so make sure to let them cook on one side until that delicious caramelization happens. Then give them a stir and let them stay in one place again. 
Overcrowding the pan: For mushrooms to get that delicious golden brown crust, they need some space in the pan. If the pan is overcrowded, the mushrooms will steam instead of browning. When possible, try to give the mushrooms some space in the pan, even if that means cooking them in batches, 
Try different mushrooms: One of the great things about mushrooms is that there is so much variety. Try all types of different mushrooms when sauteing them and don't be afraid to mix a few different types of mushrooms in one recipe. It adds depth of flavor and makes the dish interesting.
What to serve with mushrooms?
Mushrooms are one of those side dishes that can be served with almost anything. The meaty, earthy flavor makes it a great side dish for steak but it is also great with chicken, pork, fish, and vegetarian dishes. Here are some favorite main courses to serve with mushrooms:
What are the benefits of eating mushrooms?
Mushrooms are very healthy for you. Mushrooms are very low in calories and have zero sodium, cholesterol, or fat. They are a good source of fiber, which means they can help you feel fuller, longer.
Mushrooms are also chock full of B vitamins such as niacin, pantothenic acid, and riboflavin, which are all really important for heart health. Antioxidants abound in most varieties of mushrooms, which help protect your body from free radicals that contribute to diseases of the heart and cancer. They're also great immune-system boosters!
Copper available in mushrooms is essential to helping your body make red blood cells to take oxygen to all parts of your body. Copper also helps your bones and nerves stay healthy.
As if all of that wasn't reason enough to eat mushrooms, here's a fun fact: Just ⅔ a cup of cooked portobello mushrooms has as much potassium as a medium banana!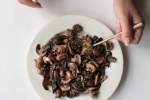 Ideas for Eating Mushrooms
If you've had your fun sauteing but aren't finished with mushrooms just yet, may I suggest some other delicious ways to flavor your fungi?
Raw: That's right, just wash, rinse, slice and dice. Add them to a salad or on a veggie tray with some hummus.
As a meat substitute: Finely chopped mushrooms make an amazing meat substitute in tacos! But don't take my word for it, try them yourself!
Grilled: Grilled mushroom skewers are so, so, so very good. They're one of my main side dishes I grill out all summer long!
Roasted: Roast them by themselves or with another veggie to double your nutrients and tickle your tastebuds!
Is it okay to wash mushrooms?
You don't really need to wash mushrooms as in soak them and rinse them and scrub off the dirt. Frankly, all you need to do is use a dry, clean cloth to rub the dirt off, slice, and go.
But if you really want to wash them, then just do a quick rinse under running water and then pat dry before cutting and cooking. Soaking them can waterlog them and make them soggy and too watery when you go to cook them. They have enough water in them to begin with, no need to add more!
More Sauteed Vegetable Recipes