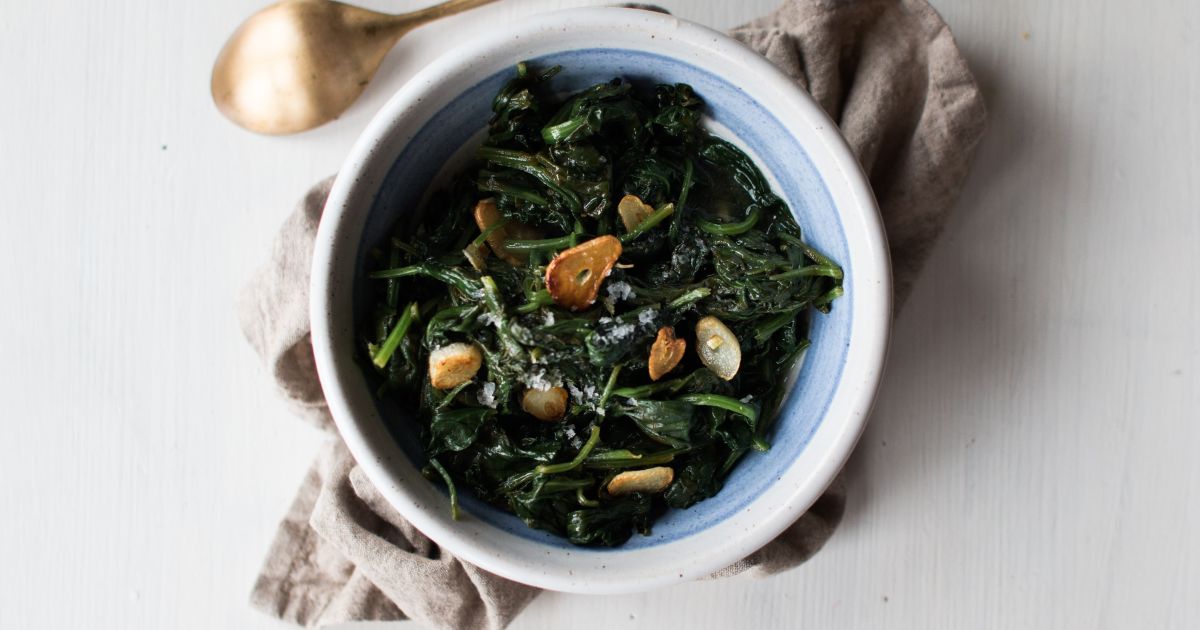 The best garlic sauteed spinach with crispy garlic, fresh lemon juice, and some seriously delicious spinach. This side dish is easy and packed with flavor. Jump to Recipe keyboard_arrow_down
93 CALORIES 6g CARBS 7g FAT 4g PROTEIN
2 Green
2 Blue
2 Purple
MyWW® SmartPoints™ New!
Garlic Sautéed Spinach Recipe
Okay I feel like I'm going out on limb here with this recipe for Garlic Sauteed Spinach. I can already feel the skepticism and possibly lingering finger over the mouse to go on to the next recipe. Because spinach isn't the most popular vegetable, and sauteed spinach? Probably even less popular.
But wait! Don't go! I promise you this recipe will change the way you think about cooked spinach. Just give it a go just one time and I really think you'll put spinach on rotation in your house. Plus it's so good for you and so easy to keep on hand (it'll keep in your fridge longer than most greens) and when you're tired of eating it in salads or it looks like it's going to go bad, you can just saute it with garlic and eat it that way. Less food waste, good for your body, win win!
How do you make Garlic Sauteed Spinach?
Did I mention this was easy? In just a few steps, one pan, and less than 10 minutes, you can have a delicious, nutritious dish ready to eat.
First, heat the olive oil, garlic, and red pepper flakes in a skillet over medium-high heat. Cook it for just 1-3 minutes, or until the garlic becomes fragrant and begins to brown, taking care not to overcook it.
Next, take the garlic out of the pan using a slotted spoon. Then, add the spinach to the same pan, cooking and stirring until it's wilted. It won't take long, maybe 3-4 minutes. Add the garlic back to the pan along with salt, pepper, and fresh lemon juice.
Serve and enjoy!
What makes spinach healthy?
In addition to being low in calories, having zero cholesterol, no carbs, and no fat, spinach is also high in fiber, which keeps you feeling fuller, longer and is great for your digestive system.
The vitamins in spinach include vitamins A, K, B1, B2, B6, K, E, and C and minerals include manganese, folate, copper, zinc, phosphorus, and calcium. It also provides your body with a healthy dose of antioxidants, carotenoids, and flavonoids.
.
Spinach can also help your hair and skin glow, keep your bones strong, lower your risk for heart disease, and help keep your blood sugar in check, all of which make picking sauteed garlic spinach as a side dish a great choice for your health.
How much spinach a day is safe to eat?
Like anything in life, moderation is key. Experts recommend about 2 cups of dark, leafy greens a day, which will provide you with all of your requirements for vitamin A, plus most of your vitamin K intake for the day.
Are you supposed to wash spinach?
I often buy my spinach in a bag or plastic container, and those are usually labeled with some text that indicates whether or not it's been washed. I tend to believe the packaging when it says it's been washed and just cook it right out of the bag/container.
However, sometimes I do notice that it's a little gritty still, and in this case, I'll go ahead and rinse the leaves in a colander in the sink and then put them in a salad spinner to remove excess water before cooking. It's totally up to you!
Ideas for Eating Garlic Sauteed Spinach
I like to eat my garlic sauteed spinach in a bowl with a fork. Sometimes it's my side and sometimes it's my main dish, depending on how much spinach I am craving during that meal.
Give your morning egg muffins a little more flavor by adding in this garlic spinach.
Garlic sauteed spinach would also be so delicious in these quinoa meatballs for a little extra zing!
Consider tossing spinach sauteed in garlic into an omelette, quiche, or frittata for an amazing flavor.
This spinach dish would also go well over white, brown, or cauliflower rice, over high-fiber egg noodles, or another grain.
I like to layer this spinach on a plate and add my slow cooker lemon garlic chicken on top for a lemony/garlicky/low-carb/filling dish that's so delicious!
More sauteed vegetable recipes