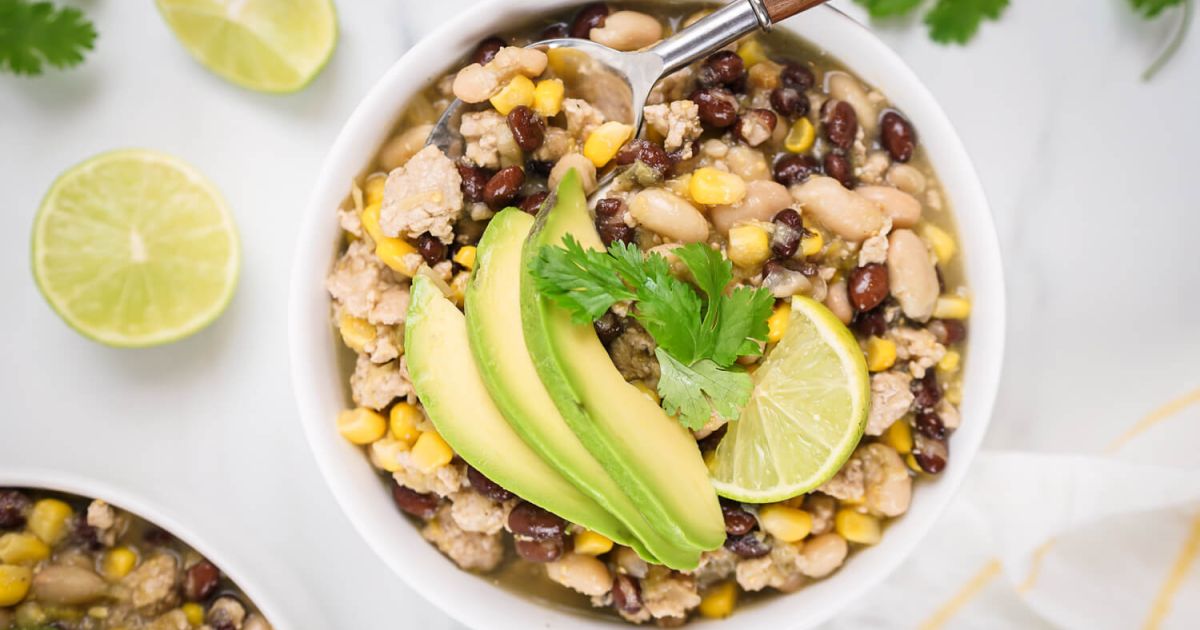 This Green Turkey Chili made with pantry staples is quick and easy to make, packed with flavor, and always a family favorite.
Jump to Recipe keyboard_arrow_down
385 CALORIES

43g CARBS

5g FAT

47g PROTEIN
7 Green
0 Blue
0 Purple
MyWW® SmartPoints™ New!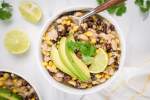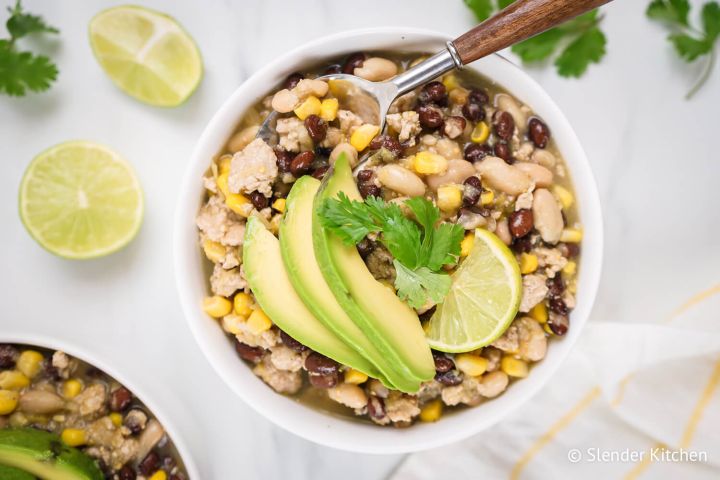 Green Turkey Chili (Shortcut) Recipe
This Green Turkey Chili is seriously the easiest thing to make. It's made with lean ground turkey, a couple cans of beans, corn, and green salsa verde. Make it on the stovetop, in the slow cooker, or in the Instant Pot.  
This is one of those chili recipes that you will make again and again. It couldn't be easier, is super versatile, and is always a huge crowd pleaser.  Just set out a bunch of toppings options and you have a dinner that's affordable, filling, and actually pretty good for you. 
Originally I wasn't planning on sharing this spin on White Chicken Chili, since they are so similar, but after lots of requests, here it is. Just brown some ground turkey, add your beans and corn, pour in a jar of salsa verde, and add some broth. That's it. Simmer it for 30-40 minutes to deepen the flavor and dinner is ready.  Save leftovers for lunch or throw it in the freezer. 
The key to this recipe is the salsa verde. Salsa verde is made with green tomatillos, jalapenos, cilantro, onion, and garlic but instead of making your own (which you could!), this recipe uses store-bought salsa as a shortcut. It creates all the flavor in the chili with some tang from the tomatillos, heat from the jalapenos, and plenty of flavor from the herbs and spices. So easy and so good.
Recipe Ideas and Tips (Including Pantry Swaps)
If you don't have ground turkey, you could make this with any type of ground meat. You could also use turkey breast, chicken breast, chicken thighs, or pork. When using fresh turkey, chicken, or pork, you'll want to simmer it until the protein easily shreds and is cooked through. 
For an even easier option, you could use cooked turkey, rotisserie chicken or leftover cooked chicken. Just chop or shred the meat and add it in the last 10 minutes of cooking.
This recipe can be made with absolutely any type of canned beans or homemade cooked beans. Use whatever you have on hand. Traditionally green chili is made with white beans only. Anything will work here.
For the corn, you can use canned corn, frozen corn, or freshly corn. You could also use hominy, which is one of my favorite variations.
If you don't have green salsa, you could substitute jarred red salsa or enchilada salsa. It will change the flavor, but it will still be very tasty.  For red salsa, you may want to add a couple o tablespoons of tomato paste to boost that tomato flavor.
If you like a spicier green chili, you have a few options. You can add a couple of diced jalapenos or serrano peppers to the ground turkey. Leave the seeds in for more spice. For an easy option, just add some cayenne pepper, chili powder (will also add a smoky flavor), or red pepper flakes when you add the other spices. Or just add some green Tabasco or hot sauce. 
If you want a thicker chili, you can add less chicken broth. Another popular option is adding a can of refried beans to the soup.
For a creamy chili,  add about 1/2 cup of sour cream or half and half to the soup before serving. 
Serving Ideas
The secret to any delicious chili comes down to the toppings in my opinion.
Toppings: Serve your green turkey chili with some diced avocado, cilantro, fresh limes, crumbled tortilla chips, shredded cheese, queso fresco, diced onion, diced jalapenos, sour cream, or Greek yogurt.
Serving Ideas: Serve this with a nice green salad or some roasted vegetables to round out the meal. You could also serve it over rice, quinoa, or polenta to stretch the meal even further.
Is Green Turkey Chili freezer friendly?
This soup freezes well and will last in the freezer for 3-4 months. Make sure to let it cool to room temperature before freezing and remember to leave a little extra space in the container since the chili will expand as it freezes.
How long will it last in the fridge?
This will keep for 4-5 days in the fridge in an airtight container. Like many soups, this will be even better after a night in the fridge so consider making it a day in advance if you have the time. 
More chili recipes