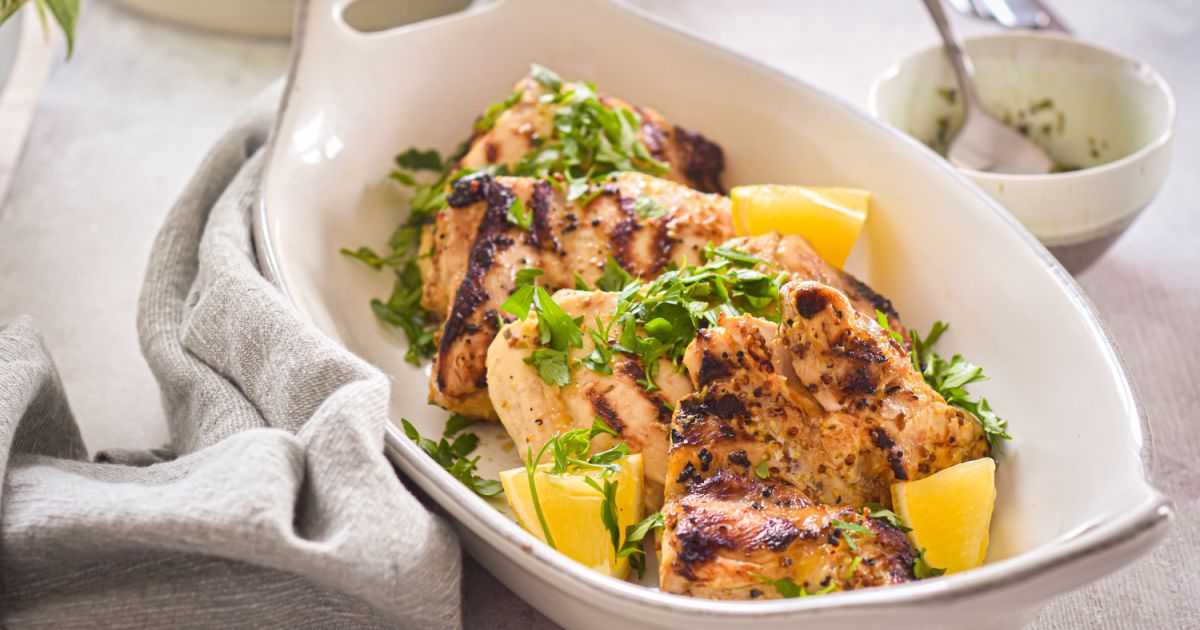 Grilled Lemon Dijon Chicken Thighs in a simple homemade marinade is easy to make, packed with flavor, and makes a great grilled dinner. Jump to Recipe keyboard_arrow_down
214 CALORIES 2g CARBS 8g FAT 29g PROTEIN
5 Green
5 Blue
5 Purple
MyWW® SmartPoints™ New!
Grilled Lemon Dijon Chicken Thighs Recipe
Simple recipes are sometimes the best, like these flavor-packed, easy-to-make Lemon Dijon Grilled Chicken Thighs. They are so easy to put together, packed with flavor, and the leftovers are amazing. They taste  great in everything from chicken salad to a quick one pot pasta dish.
Lately, I have been grilling at least two or three nights a week. Partly because I want to hang on to every grilling day I can and partly because I love that there is so much less clean up with a grilled dish!
And, since I think that simple recipes seem to just be meant for the grill, I usually turn to easy marinades when I want to create a new and tasty grill dish. It just so happened that I was looking at a package of chicken thighs thawing in the fridge asking them to give me some inspiration. Some easy inspiration, that is. Then, I turned my head to the right and saw the Dijon mustard on the shelf.
This made for the beginnings of a simple marinade of lemon, Dijon mustard, garlic, and oregano. Viola! That most perfect marinade for chicken thighs (or breasts if you prefer). Paired with a simple salad, grilled veggies, or rice — it makes for one heck of a delicious, healthy dinner.

What ingredients do you need for Grilled Lemon Dijon Chicken Thighs?
The list of ingredients really couldn't be simpler! All you need is:
About a pound of chicken thighs (or breasts): Either will work so it's just based on preferences or what you have on hand. One benefit of chicken thighs is that they have a little more fat so they are more forgiving if they cook a bit too long. 
Fresh lemon juice: Make sure to use the real thing if you can. 
Dijon mustard: You could also use whole grain mustard, but  I wouldn't use regular yellow mustard since it lacks the same depth of flavor.
Olive oil: This adds the most flavor and is very heart-healthy. You could also use another oil if you don't have any olive oil on hand.
Garlic cloves: If you don't have fresh, add garlic powder or garlic paste instead.
Oregano: You could also substitute another dried herb or s combination of dried herbs like this Italian seasoning.
Salt and pepper: A staple in pretty much any grilled chicken recipe. 
How do you make this?
First, combine the lemon juice, mustard, olive oil, garlic, oregano, salt, and pepper in a large bowl.
Place the chicken in the marinade for at least 4 hours, or up to overnight.
When you're ready to get to grilling, take the chicken out of the marinade and let the excess drip off (over the sink or the bowl), not into the grill.
Put the thigh pieces or breasts on the grill and let the first side cook for 4 minutes before flipping and allowing the second side to cook. They should be done after about 8-10 minutes.
What sides go well with Grilled Chicken Thighs?
Grilled potatoes always pair well with chicken on the grill. Especially these grilled potatoes in foil packs with mushrooms and onions.
Side salads are a perfect side too, because they can actually be served on the side or you can slice up the grilled, lemony chicken and put it right on top of the salad with a light dressing for a complete, filling meal!
Brown, wild, or cauliflower rice is always a winner in my house. If you like your rice a bit saucy, sometimes I'll double the marinade and half it BEFORE marinating. What you do is use one half to marinade the chicken as directed. Then, you take the other half and put it in a saucepan on the stove and let it simmer for about 10-15 minutes to thicken. You can then spoon this over the chicken and rice (or noodles).
Spaghetti squash boats are another favorite — you can roast them in the oven ahead of time and have them ready or scooped out to nestle the chicken right on top of.
I also like to roast up a veggie or two on the grill right alongside the chicken. Some favorites include asparagus, broccoli, and zucchini.
How do you know if chicken thighs are fully cooked?
One surefire way to know if the chicken is cooked is to insert a meat thermometer. It should read 160 degrees when the chicken is done.
If you don't have a meat thermometer, you can just pierce or prod the thigh with a fork or knife. If pink juices come out, the chicken is not fully cooked. When the juices run clear, the meat is done cooking.
Is lemon juice in a bottle the same as real lemon?
Although you can totally use bottled lemon juice if you don't have a fresh lemon to squeeze, there are a few differences. First off, the flavor of a fresh-squeezed lemon is much better than that of the bottled stuff. Fresher tasting, slightly more acidic, just brighter and lemonier in general.
The bottled juice will also contain some preservatives to keep it shelf-stable. That's why I try to use freshly squeezed citrus juice whenever possible. But if bottled is all you have, it will be fine.
What makes Dijon Paleo-friendly?
Check your bottle to make sure your Dijon has only Paleo/Whole-30-friendly ingredients (if that is important to you and your diet). Not all bottles are.
If the ingredients listed are simply mustard, lemon juice, white wine, and olive oil, you're good to go. If you see a bunch of other ingredients, it's probably best to skip past those in favor of a different, healthier brand.
More grilled chicken recipes