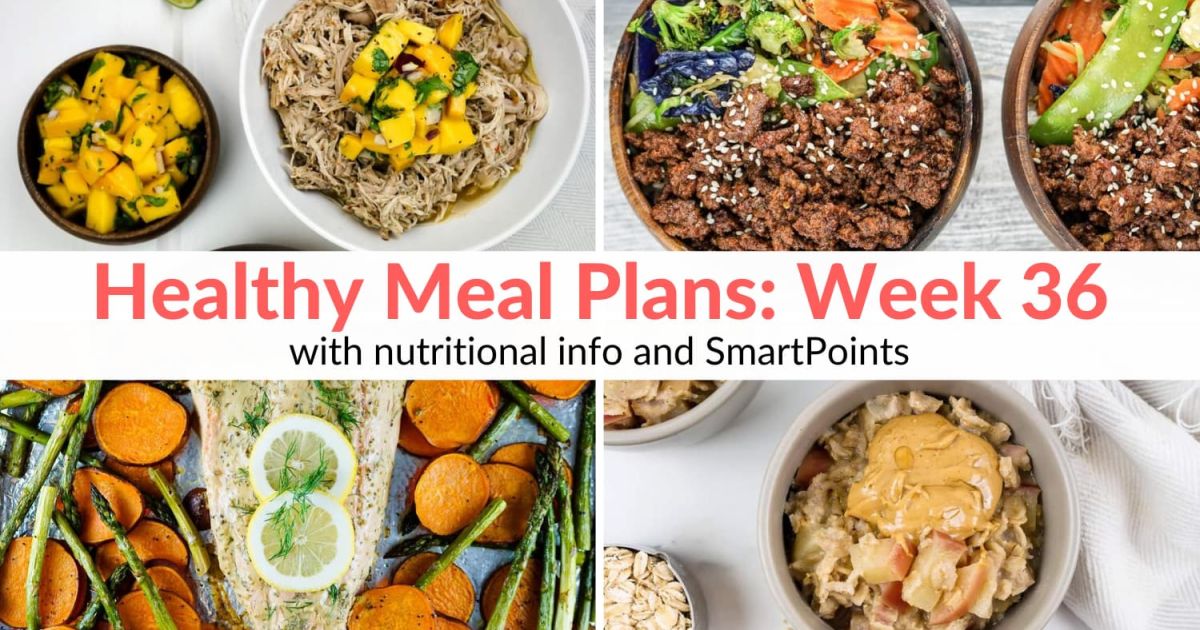 Don't miss out on this week's delicious healthy, low carb, and vegetarian meal plan packed with easy and family friendly recipes with nutritional info, myWW Points, shopping lists, and more.
Welcome to this week's meal plan! I couldn't be more excited to welcome all our new members of easy, healthy eating with our weekly meal plans! This week is packed with easy to prepare, family-friendly recipes that you will love!
Now let's talk about the food! This week starts out with one of my family's favorite recipes – Slow Cooker Jerk Chicken with Mango Salsa. Monday night brings a reader favorite, Spinach Artichoke Pasta. Tuesday brings Healthy Korean Beef Bowls and Wednesday is Greek Yogurt Parmesan Chicken. To end the week, enjoy Sheet Pan Roasted Salmon, Pork Fried Rice, and easy Salsa Verde Turkey Tacos.
Meal Prep: A little work on Sunday goes a long way to make meals faster during the week. You can prep the quinoa, brown rice, and prep all your veggies.
Cooking Tip: If you don't love jerk seasoning, just swap in another seasoning you enjoy. Consider barbecue, Cajun, or grill seasoning.
Love leftovers: Double up the Sausage Soup, Jerk Chicken (just the chicken), and Pork Fried Rice to store extras in the freezer.
Weight Watchers! You to choose between Green, Blue, and Purple Smartpoints! Then you will get a customized plan for that plan! You can switch between plans at any point – it's all included with your membership.
Dietary Needs: We offer a healthy, low carb, and vegetarian version of our meal plans each week.   You get all three options with your membership and can change at any time.
Family Size: Our meal plans are interactive so you can adjust the settings to make it work for any size family and any needs. You choose how many servings you want for each recipes and what meals you want. Plus you can swap in recipes if there is something in the meal plan you don't care for. 
And here's a preview of some of this week's delicious meals!
Slow Cooker Jerk Chicken: Slow Cooker Jerk Chicken is sweet, spicy, and seriously delicious plus it's healthy and all the hard work is done by your crockpot. (251 calories, 4 G, 4 B, 4 P)
Korean Beef Bowls with Veggies: This dish is ready in less than twenty minutes, has the most delicious sauce, and is made with just 8 ingredients most people have on hand. (296 calories, 6 G, 6 B, 6 P)
Microwave Apple Peanut Butter Oatmeal: Easy apple oatmeal made with fresh apples, whole grain oats, cinnamon, and finished with creamy peanut butter is a quick and filling breakfast. (302 calories, 6 G, 6 B, 3 P)
One Pan Roasted Salmon, Sweet Potatoes, and Asparagus: This easy roasted lemon and dijon salmon with sweet potatoes and asparagus is so easy to make and will quickly become a regular in your healthy eating routine. (382 calories, 8 G, 4 B, 1 P)
Love the idea of meal planning but don't have time to find recipes, create shopping lists, and make meal plans?
Since I know that many people simply don't have the time to create their own healthy meal plans, we provide delicious and healthy meal plans at Slender Kitchen that you can customize to meet your needs.
Each healthy weekly meal plan comes full of delicious recipes for breakfast, lunch, and dinner. The meal plans come in regular, vegetarian, and low carb options. All feature complete nutritional information, Weight Watchers Green, Blue, or Purple SmartPoints, and categorized shopping lists! There are also two bonus fallback recipes weekly and the option for either a complete meal plan or a Dinner Only plan.
This includes our interactive meal planning option where you can customize the number of servings for each meal, swap in new recipes if you don't like something, or build your own meal plan from scratch. All that for less the cost of one cup of coffee per month with the yearly plan.